S2K Commerce - Products Dropdown
Actions
Belmont Dental Equipment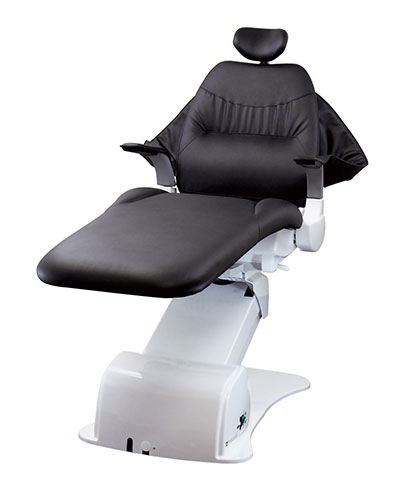 X-Calibur V B50N
The X-Calibur V B50N dental chair carries the Belmont traditions of excellence in reliability, durability and patient comfort. Its sleek design and electro-hydraulics provide a full range of motion and positioning, allowing for easier access to the patient without compromising comfort and safety.
Articulating dual-axis headrest accommodates the anatomy of each patient.
ETL Certified with safety shut-off plates that prevent accidental activation of positioning controls.
Swing-away armrests for easy patient entry and dismissal.
Electro-hydraulic operating system with 60° left-to-right seat rotation, base and backrest adjustments, programmable position storage and auto-return – all accessible via built-in membrane switches located on doctor and assistant sides.
Foot control provides additional adjustment customization with manual positioning control and auto-return.
Seat ranges from 13-3/8"-28-3/8" to ergonomically help the user.
Choice of standard Vinyl or Ultraleather® upholstery.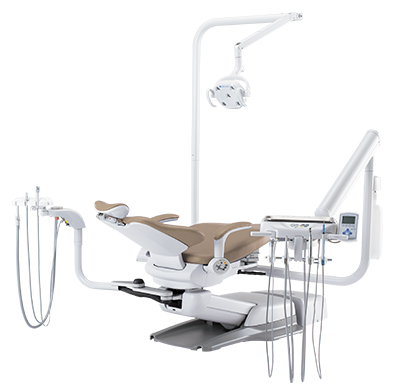 Evogue Delivery System
The EVOGUE dental delivery systems optimizes patient treatment productivity through its thoughtful design, efficient access to controls and effective range of motion for positioning hand pieces.
90°-to-90° delivery head rotation allows the user to position the system to their ideal position.
Integrated touchpad located in the center of the delivery head for line-of-sight access to conveniently position patients.
Positioning handles are placed above the air brake switch for easy placement of the delivery head.
Individual hand piece holders can be angled to prevent accidental punctures.
Doctor's control bottled water system with bottle quick disconnect.
Over-the-patient, swing-mount and rear cabinet-mount configurations available.
Long and flexible assistant instrument arm holds handpieces for both two- and four-handed treatment.
Hose tenders keep hoses clean and off the floor for additional safety and convenience.
Optional porcelain cuspidor rotates 180° and is easy to position in relations to the patient.
Integrated accessories can be attached with plumbing and wiring concealed, minimizing operatory clutter and strengthening efficiency.
Seamlessly adapts to Belmont's Q5000 and B50N dental chairs.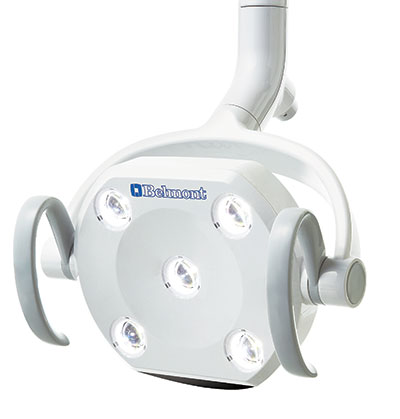 Clesta LED Light
A powerful and precise tool for every dental practice, the Clesta LED dental light combines the award-winning Bel-Halo technology with the proven, long-term success of the Clesta brand.
High performance of the five LED bub array produces a well-defined light pattern for oral cavity illumination.
Three-axis head rotation paired with handles provides smooth, easy movements and precise light maneuvering.
Touchless ON/OFF and Composite Safe Mode sensor reduces physical contact with light surfaces and minimizes cross-contamination risks.
Stepless illumination controls match ambient lighting conditions within the operatory and approximate mid-day light.
Shadowless illumination allows for uninterrupted light to the patient's oral cavity, even with 50% obstruction between light and patient.
Available in curved post, swing mount, post mount, ceiling mount and track mount configurations.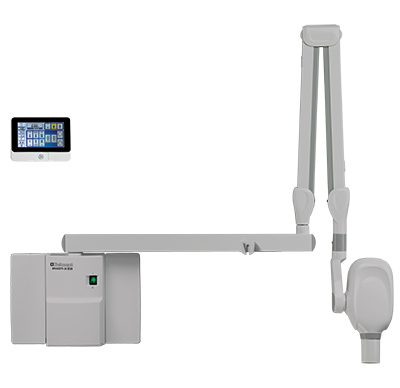 PHOT-xIIs LCD
The PHOT-xlls produces superb radiographic images and minimizes patient exposure to radiation during dental imaging. Its sleek, aesthetic design makes it a natural choice for any dental operatory.
LCD touchscreen sub-controller with English, Spanish,
French or Japanese language control selection at the touch
of a switch
USB port on sub-controller for importing screen saver
pictures and for exporting X-ray service data
Easy selection of exposure time, tooth type, cone type, film/
digital modes, film speed, kV, mA and patient size
Automatic and manual modes for each patient and tooth type
Radiation dose (air kerma) display
High frequency X-ray generator minimizes patient exposure
to radiation
0.4 mm focal spot produces excellent image clarity