S2K Commerce - Products Dropdown
Actions

Description
Price
Quantity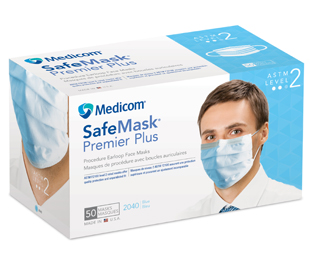 The SafeMask Premier Plus Earloop Mask from Medicom has a unique shingle pleats design to prevent fluid pooling and cross-contamination.

• Fluid resistant inner and outer layer
• Adjustable nosepiece
• ASTM Level 2

Color: Blue

Contains: 50 per Box
Promotion Details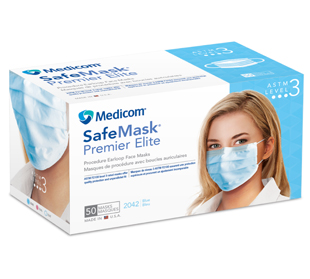 SafeMask Premier Elite exceeds current ASTM F2100 performance standards for high barrier protection. Best for procedures producing heavy amounts of dust, airborne particles, moisture, spray and spatter. Bacterial and particle filtration efficiency of 99% ensures the highest level of protection against potential sources of infection.

Color: Blue

Contains: 50/box
Promotion Details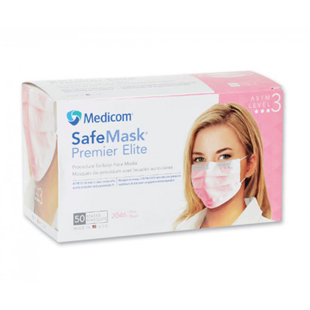 SafeMask Premier Elite exceeds current ASTM F2100 performance standards for high barrier protection. Best for procedures producing heavy amounts of dust, airborne particles, moisture, spray and spatter. Bacterial and particle filtration efficiency of 99% ensures the highest level of protection against potential sources of infection.

Color: Pink

Contains: 50/box
Promotion Details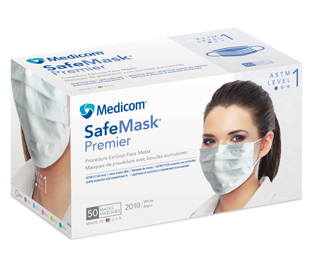 SafeMask Premier face masks with earloops provide low barrier protection for oral exams of low-risk patients and procedures involving the lowest levels of spray and spatter such as fluoride treatments, minor orthodontics and basic lab work.

• Protective nonwoven inner layer
• Premier exceeds ASTM F2100 low barrier protection
• BFE = 95% and fluid resistance at 80 mm Hg
• Added protection with unique shingle pleat design to prevent fluid pooling

Color: Blue

Contains: 50 per Box
Promotion Details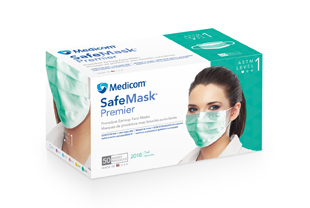 SafeMask Premier face masks with earloops provide low barrier protection for oral exams of low-risk patients and procedures involving the lowest levels of spray and spatter such as fluoride treatments, minor orthodontics and basic lab work.

• Protective nonwoven inner layer
• Premier exceeds ASTM F2100 low barrier protection
• BFE = 95% and fluid resistance at 80 mm Hg
• Added protection with unique shingle pleat design to prevent fluid pooling

Color: Teal

Contains: 50 per Box
Promotion Details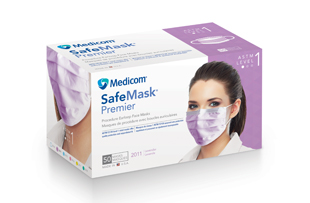 SafeMask Premier face masks with earloops provide low barrier protection for oral exams of low-risk patients and procedures involving the lowest levels of spray and spatter such as fluoride treatments, minor orthodontics and basic lab work.

• Protective nonwoven inner layer
• Premier exceeds ASTM F2100 low barrier protection
• BFE = 95% and fluid resistance at 80 mm Hg
• Added protection with unique shingle pleat design to prevent fluid pooling

Color: Lavender

Contains: 50 per Box
Clearance - Overstock Item, Limited Availability
Promotion Details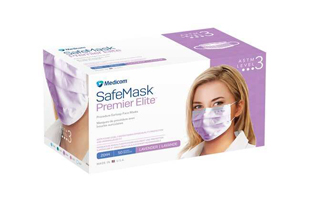 SafeMask Premier Elite exceeds current ASTM F2100 performance standards for high barrier protection. Best for procedures producing heavy amounts of dust, airborne particles, moisture, spray and spatter. Bacterial and particle filtration efficiency of 99% ensures the highest level of protection against potential sources of infection.
Color: Lavender
Contains: 50/box
Item is currently not in stock. Contact your DHP Account Manager for ETA.
Promotion Details
Shop Dental Supply Offers
DHP sources the best dental supply offers and dental supply discounts from key dental supply manufacturers.
Looks for dental supply discounts from 3M Oral Care, Dentsply Sirona, Kerr Restoratives, HuFriedy, Ivoclar, GC America, Kulzer, Vatech America, Belmont Dental, Coltene, Premier Dental, and more. DHP also offers an extensive catalog of our own private label, DHP Brand Supplies.
DHP's online dental supply store is easy to use. You will find dental supply discounts on commonly used items like nitrile gloves, facemasks, teeth whitening, anesthetics, dental dams, hand sanitizer, scope mouthwash, face shields, disinfectant sprays, Caviwipes, ultrasonic cleaners, chlorhexidine gluconate, composites, latex gloves, Oral B toothbrushes, sharps containers, and more.
Questions? Please call 800.626.2163 to speak with an experienced Account Manager or Customer Service Representative. They will work with you and our entire team to select the best dental supplies, dental equipment, and dental practice solutions.